Wayfair is one of the largest online retailers of home goods, including furniture, decor, kitchenware, and more. The e-commerce company has seen huge growth in recent years, especially during the pandemic when more people were shopping online and investing in their homes. However, the unpredictable demand of the home goods market has led to challenges with excess inventory for Wayfair.
Challenges with excess inventory
With a business model focused on maintaining a large product selection and shipping items quickly, Wayfair is prone to overstocking items. Fluctuations in consumer demand and seasonal inventory make it difficult to perfectly predict needs. This had led to excess merchandise accumulating in Wayfair's warehouses. Excess inventory ties up capital and warehouse space.
Most people still like to physically hold products before buying them
Wayfair has long promoted the fact that it is an online-only business. The company is proud that its clients don't have to look up a "store near me" or set aside an entire day to go furniture shopping because of the fact that it still claims on its website that it has no real locations. That is, "You'll be happy to know that Wayfair is located everywhere thanks to our online store!"
Although CEO Niraj Shah hinted at the possibility of physical locations last year, the launch of a single returned-merchandise facility does not indicate that Wayfair is planning to lose its unique online presence. Despite Wayfair's success, selling furniture online may not be the greatest industry to test out this new strategy.
To begin, Wayfair must demonstrate that it can successfully turn a profit. It makes a slender profit in the United States but loses money everywhere else.
Another issue is that the company lacks a sustainable competitive advantage, or moat. With reported furniture sales of $4 billion last year, up 51% from 2016, Amazon.com has a legitimate shot of catching and eventually surpassing Wayfair within the next year or so.
Third, while online furniture sales are projected to grow by 19% this year to more than $90 billion, the vast majority of customers still favor shopping for furniture in physical stores. According to a study cited by eMarketer, conducted by consumer research platform Civic Science, only 14% of people who have never purchased furniture online are considering doing so (in addition to the 18% who want to do it again), while 60% have no interest in doing so at all.
Announcing the new outlet store
To deal with these challenges, Wayfair has announced the opening of its first ever outlet store location. The brick-and-mortar store will provide an avenue to sell excess merchandise and recoup costs.
Aims to sell excess merchandise
The key goal is to sell through products that did not sell well online. The store will feature overstock items, returned items, canceled orders, and more at discounted prices.
Offer deep discounts
Prices at the outlet store will be deeply wayfair discount code, with potential savings of 50-80% off regular prices. This reflects the goal of clearing out inventory even at low margins.
Benefits of the outlet for Wayfair
Opening an outlet store location offers a few financial and operational benefits for Wayfair.
Recoup costs
Although the margins will be lower, selling excess goods at any price allows Wayfair to recapture some lost costs from excess inventory. Removing some inventory clears up warehouse space.
Clear out warehouse space
The outlet store will also alleviate storage constraints. Less inventory in warehouses provides more room for new items coming in.
What the outlet means for customers
For shoppers, the new Wayfair outlet provides opportunities for deals along with a new shopping experience.
Chance to get deals
Customers can take advantage of the deep discounts to get great deals on home goods. The stock will change regularly, creating a "treasure hunt" environment.
New shopping experience
The outlet store also offers a new way to browse Wayfair's selection in person. Shoppers can evaluate products and furniture quality themselves.
The future of Wayfair's business
Looking forward, Wayfair will need to re-evaluate parts of its business model and operations.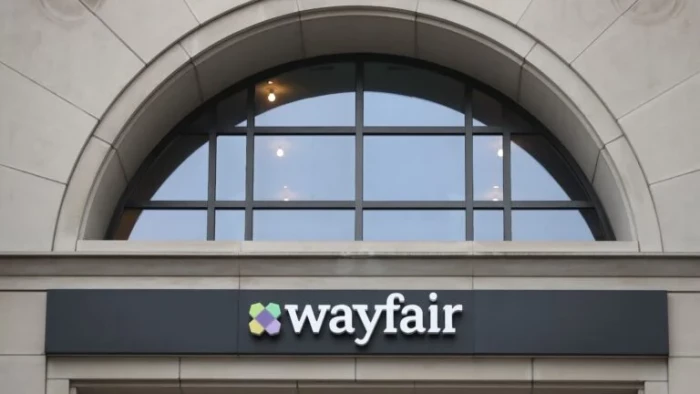 Inventory management
The excess inventory issue highlights the need for better demand forecasting, supply chain management, and inventory tracking.
Omnichannel shopping Just getting started?
Website for the Furniture Market Wayfair has now confirmed the opening of their 20,000 square foot outlet store in Kentucky, where they will sell factory seconds and customer returns in excellent condition. Wayfair has long maintained that operating solely online is the best strategy, so the company may be experiencing a larger-than-usual volume of returns now that it has opened a physical store.
Forbes wrote recently that Wayfair's profits are "excessive even by online standards." Items bought online are significantly more likely to be returned than those bought in a shop, despite the fact that online retailers are growing much faster than their physical counterparts and digital sales by brick-and-mortar merchants are the fastest-growing aspects of their businesses.

In fact, 31% of internet purchases are returned, whereas only 9% of in-store purchases are refunded. Between twenty percent and sixty-five percent of a web store's COGS is eaten up by the cost of returns.

Wayfair's free shipping on most items over $49 is a major selling point, so if their return rate is "excessive" relative to industry standards, that might be a major issue. Wayfair does offer to cover the cost of return shipping for bridal registry products (but only in the form of shop credit, rather than a refund).
Expansion plans
If the outlet store succeeds, Wayfair may look into expanding the concept with more physical outlet locations nationwide.

Conclusion
Wayfair's new outlet store represents a tactical shift to deal with the financial and operational problems of excess inventory. The store offers discount prices for customers and clearer warehouse space for Wayfair. Moving forward, better systems and forecasting could help avoid excess stock. But the outlet store may remain an effective way to recapture value. The performance of this first outlet will inform future expansion plans.
FAQs
Q: Where will Wayfair's first outlet store be located?
A: The location has not been announced yet, but it is expected to be somewhere near Wayfair's headquarters in Massachusetts.
Q: What kind of discounts can shoppers expect at the outlet?
A: Prices will be 50-80% below Wayfair's regular online prices to drive volume sales. Exact discounts will vary by item.
Q: Will the outlet store eventually sell more than just excess inventory?
A: For now, the focus is clearing out existing overstock. But in the future, it could evolve to feature selected items from Wayfair's broader catalog.
Q: How can I find out about new inventory and sales at the outlet store?
A: Wayfair will likely promote the outlet through email campaigns and social media to inform customers of new product arrivals and sales.
Q: Is this part of a larger brick-and-mortar expansion strategy for Wayfair?
A: The company is cautious about physical retail, but the outlet's performance could influence future expansion decisions if it succeeds. More outlets may open.